รับประกันสินค้า 3ปี
สามารถออกใบกำกับภาษีได้
สัมผัสกับ AC-WiFi แห่งอนาคตพร้อมเทคโนโลยี MU-MIMO ที่ล้ำสมัยสำหรับการสตรีมและเล่นเกมออนไลน์ที่มีประสิทธิภาพ
ครอบคลุมพื้นที่ 1,800 ตารางฟุต และใช้งานพร้อมกันได้มากกว่า 15 อุปกรณ์
ความเร็วไร้สายรวม 2.2 Gbps
ประสิทธิภาพเพิ่มขึ้น 2 เท่า เมื่อเทียบกับเราเตอร์ที่ไม่รองรับ MU-MIMO*
ติดตั้งง่าย พร้อมใช้งานได้ทันที
เทคโนโลยี Beamforming เพิ่มประสิทธิภาพการเชื่อมต่อไร้สาย โดยเน้นสัญญาณ WiFi ไปยังบริเวณที่มีอุปกรณ์เชื่อมต่อ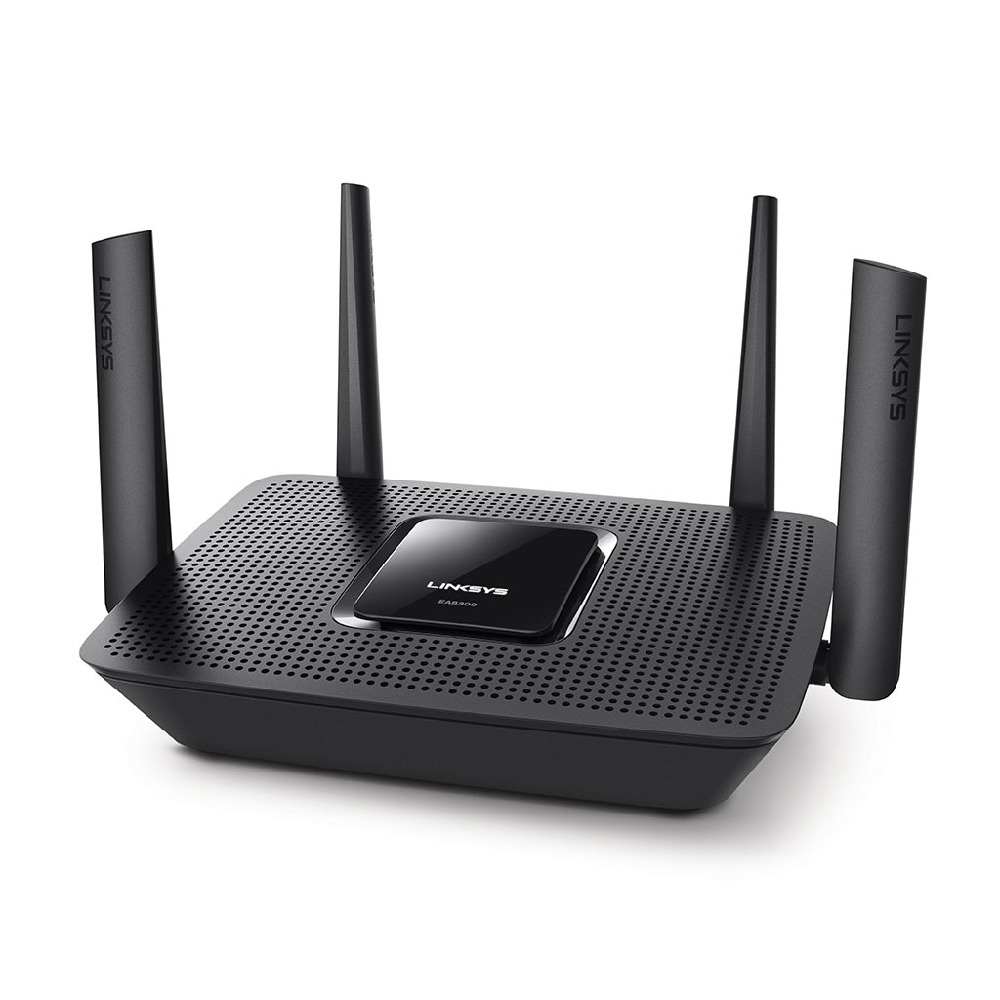 LINKSYS EA8300 MAX-STREAM MU-MIMO TRI-BAND AC2200 GIGABIT WI-FI ROUTER
DOUBLE THE PERFORMANCE OF A DUAL-BAND ROUTER
Enjoy up to double the performance* of a Dual-Band router with the Linksys MAX-STREAM AC2200 MU-MIMO Wi-Fi Tri-Band Router (EA8300). Featuring Tri-Band technology, the MAX-STREAM AC2200 is ideal for 4K and HD video streaming and next-gen online gaming.
Households with heavy Wi-Fi use will experience fast data transfers thanks to this gigabit Wi-Fi router's combined 2.2Gbps speed and Quad-Core CPU.
EXCEPTIONAL MULTI-DEVICE PERFORMANCE WITH MU-MIMO
Devices such as 4K TVs, HD streaming media players, tablets, and game consoles consume a lot of bandwidth. With MU-MIMO (Multi-User Multiple-Input Multiple-Output) technology, the EA8300 router sends Wi-Fi to multiple devices at the same time and same speed. It's like having a dedicated Wi-Fi router for each of your devices.
SEAMLESS ROAMING TECHNOLOGY**
Traditional routers and range extenders force you to manually connect to either the range extender's or router's network in order to experience the best Wi-Fi signal as you move about your home. But with the EA8300's Seamless Roaming support, your devices will automatically connect to the strongest Wi-Fi signal by utilizing a single network name. Pair the router with a compatible range extender to enjoy a strong, seamless Wi-Fi signal in every room of your house.
USB AND ETHERNET PORTS CONNECT MORE DEVICES
Four Gigabit Ethernet ports let you connect more devices and share files 10x faster than with standard Ethernet. The ultra-fast USB 3.0 port is ideal for connecting shared network storage devices as well as a range of other peripherals.
HIGH-PERFORMANCE ANTENNAS FOR MAXIMUM COVERAGE
The EA8300 wireless router features four external adjustable antennas that provide four powerful streams of data to your devices–ensuring complete coverage of your home. Better coverage means faster Internet speeds wherever you are.
LINKSYS AUTO FIRMWARE UPGRADE
Linksys automatically pushes the software update to your router overnight and seamlessly bring the latest features and security to your home network. Your Linksys router will be consistently getting better over time.
Two features that will soon be added to the EA8300 are an OpenVPN Server and Advanced Band Steering.
AIRTIME FAIRNESS ENSURES WI-FI EFFICIENCY
Improve your overall home Wi-Fi efficiency with the EA8300 thanks to Airtime Fairness, a feature that ensures even, fair distribution of Wi-Fi to different devices. This helps to reduce the lag associated with slower Wi-Fi devices.
"SMART CONNECT" BAND STEERING
Smart Connect feature balances your 5 GHz Wi-Fi connections and intelligently chooses the best radio band for your devices for the best Wi-Fi performance of your network.
SPI FIREWALL AND DOS PROTECTION PROVIDE THE BEST IN CLASS INTERNET SECURITY
Linksys SPI Firewall will distinguish legitimate packets for different types of connections. Only packets matching a known active connection are allowed to pass the firewall. DoS attack is an attempt to make a computer or network resource unavailable to its intended users, with Linksys DoS protection, we will block all the possible DoS attack to keep your network running smoothly.
Specifications
Wi-Fi Technology:
AC2200 MU-MIMO Tri-band Gigabit, 400+867+867 Mbps†
Key Features:
Tri-Band (5 GHz + 5GHz + 2.4 GHz), 2×2 AC
MU-MIMO/ Seamless Roaming
Auto Firmware Update
Quad-Core CPU+ 3 offload Processors
Advanced SPI+ DoS protection Security
Advanced Beamforming+ Technology
Airtime Fairness
USB 3.0 Port
Smart Connect Band Steering
4 Adjustable Antennas+ 6 High Power Amplifiers
Smart Wi-Fi Cloud Management
Network Standards:
802.11b
802.11a/g
802.11n
802.11ac
Wi-Fi Speed:
AC2200 (N400 + AC867 + AC867)
Wi-Fi Bands:
2.4 and 5 GHz(2x) (simultaneous tri-band)
Wi-Fi Range:
Medium Household
Number of Ethernet Ports:
1x Gigabit WAN port
4x Gigabit LAN ports
Other Ports:
1x USB 3.0 port
Power
Antennas:
4x external adjustable antennas
Processor:
716Mhz Quad-core
Memory:
RAM: 256MB; Flash: 256MB
LEDs:
Illuminated Linksys logo , Wi-Fi Protected Setup, Internet connection, Network cable connection to Internet port.
Wireless Encryption:
64/128-bit WEP, WPA2 Personal, WPA2 Enterprise
Operation Modes:
Wireless Router
Access Point(Wired Bridge)
Wireless Bridge
Wireless Repeater
Storage File System Support:
FAT
NTFS
HSF+
Easy Setup:
Browser-based Setup
Minimum System Requirements:
Latest versions of Google ChromeTM, Firefox®, Safari® (for Mac® and iPad®), Microsoft Edge and Internet Explorer® version 8 and newer
Dimensions (LxWxH):
213.7mmX161.8mmx54.8mm (without Antenna)
Weight:
608 g
Security Features:
WPA/WPA2
128 bit AES link encryption
Regulatory Compliance:
FCC class B
Other Certifications:
Wi-Fi
Power Supply:
Input: 100-240V ~ 50-60Hz; Output: 12V, 2A
790 total views, 4 views today